BACK TO PRODUCTS
BENEFITS + FEATURES
BOOSTS NATURAL HA
STRENGTHENS BARRIER
INSTANTLY HYDRATES
PROTECTS AGAINST BLUE LIGHT
CLINICALLY PROVEN
EXPERIENCED CLEARER SKIN
IMPROVED RECOVERY POST-PROCEDURE
EXPERIENCED DECREASE IN APPEARANCE OF REDNESS
KEY INGREDIENTS
Hyvia to boost hydration + block blue light damage
DSD to help protect skin from environmental aggressors
Shea butter for deep conditioning with a dewy finish
Evening primrose oil to fight redness + inflammation
Complexity should be in the products. Not how you use it. 100% non-toxic skincare developed specifically to make your life easier.
OIL CLEANSER +
ENZYME EXFOLIATING POWDER
Our gentle oil cleanser removes unwanted dirt, makeup, and oil without stripping your skin of what it needs, while our exfoliator harnesses the activity of natural enzymes to help gently break down dead skin cells and boost turnover.
VIEW CLEANSING ESSENTIALS SET
Our lipid serum blocks sun damage, possesses antioxidant properties, protects collagen, and balances the skin's microbiome.
VIEW LIPID SERUM
Our novel moisturizer boosts hydration, blocks blue light damage, deep conditions for a dewy finish, and fights redness and inflammation.
VIEW HYVIA® CRÈME
FEATURED IN
DERMATOLOGISTS
ARE SAYING
"I chose to partner with Epicutis because their skincare is created with complete transparency. Each product is formulated using only the best ingredients."
WE ARE DONE WITH
DANGEROUS BEAUTY
Our products were developed using rigorous scientific testing, along with the help of professional estheticians
1 REVIEWS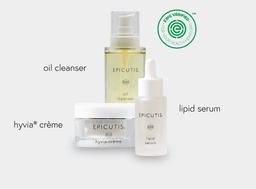 Cheryl H.
Verified buyer
This is the first ever to hydrate and make my skin look glowing ! I love it. I have used just about anything that could allow my skin a glowing appearance and stay all day. Hydration is tough because of my age and geographically where I live part of the year. Meaning the desert. These products are absolutely the finest out there ! Once daily and you're set. You don't have to have a complicated skin regime or spend tons of time and money on various products. We all have bottles and jars of different products that we use for day and then night and so on !!! My skin feels and looks like silk. I am now using for about three months and will never go back to using anything else.
2023-08-03