BACK TO PRODUCTS
BENEFITS + FEATURES
Ideal for sensitive, reactive skin
Balances tone + texture
Boost moisture levels
Instantly lock in hydration
CLINICALLY PROVEN
EXPERIENCED CLEARER SKIN
IMPROVED RECOVERY POST-PROCEDURE
EXPERIENCED DECREASE IN APPEARANCE OF REDNESS
KEY INGREDIENTS
Hyaluronic acid instantly boosts skin's moisture level
Novel molecule TSC locks in hydration and calms inflammation
Spilanthes acmella flower balances oil and boosts collagen
Propanediol plumps skin and provides anti-microbial benefits
Glycerin helps serum glide gently across skin's surface
Complexity should be in the products. Not how you use it. 100% non-toxic skincare developed specifically to make your life easier.
OIL CLEANSER +
ENZYME EXFOLIATING POWDER
Our gentle oil cleanser removes unwanted dirt, makeup, and oil without stripping your skin of what it needs, while our exfoliator harnesses the activity of natural enzymes to help gently break down dead skin cells and boost turnover.
VIEW CLEANSING ESSENTIALS SET
Our lipid serum blocks sun damage, possesses antioxidant properties, protects collagen, and balances the skin's microbiome.
VIEW LIPID SERUM
Our novel moisturizer boosts hydration, blocks blue light damage, deep conditions for a dewy finish, and fights redness and inflammation.
VIEW HYVIA® CRÈME
FEATURED IN
DERMATOLOGISTS
ARE SAYING
"I chose to partner with Epicutis because their skincare is created with complete transparency. Each product is formulated using only the best ingredients."
WE ARE DONE WITH
DANGEROUS BEAUTY
Our products were developed using rigorous scientific testing, along with the help of professional estheticians
1 REVIEWS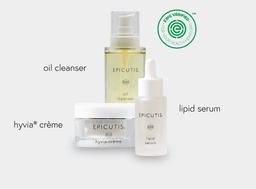 Carla B.
Verified buyer
I have purchased this set twice, from the Med spa where I get facials. I noticed the difference in my skin when I stopped using it in between purchases…and I will continue to buy this set because it works! Don't let the simplicity of it fool you into thinking it is not effective. I use other products along with this, and receive countless compliments on my skin lately. I know it is pricey, but worth the splurge to incorporate into your favorite routine.
2023-07-29